Diamond Mine

Diamond Mine Slots
Diamond Mine Slots Review
Diamond Mine Slots is a Real Time Gaming creation that is sure to please the slot lover in all of us, and it offers a unique aspect as well.
Recommended Slots Casino for playing Diamond Mine Slots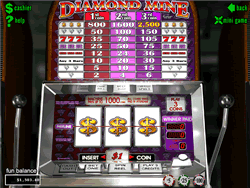 You can play Diamond Mine Slots at any of our Choice Realtime Gaming Casinos
Unlike most other games, this is both a Progressive game and a Non-Progressive game. What this means is that when you are playing the Five Dollar coin size, the game is not progressive and the jackpot is 2,500 coins with a secondary jackpot of 1,600 coins. With any other coin size, the game becomes a Progressive Jackpot game. Even the graphics and sound effects created for this game add to the fun of this already incredible game. The theme of this game is, as can be assumed by the name of the game, mining, and the graphics used for the game are very crisp and clear. Those reel graphics are Dollar Signs, Diamonds, Sevens, Triple Bars, Double Bars and Single Bars. The coin sizes available are five cents, twenty five cents, fifty cents, one dollar and five dollars.
About Diamond Mine Slots
Theme Mining
Player Demographic Tourist to Intermediate
Highest Pay Progressive (up to $1 game), 2,500 Coins ($5 game)
2nd Highest Pay 1,000 Coins
Reels 3
Paylines 1
Coins Per Payline 1 to 3
Max Coins 3
Coin Sizes $0.05, $0.25, $0.50, $1.00, $5.00
Progressive Yes and No
Wild Symbol No
Multiplier Symbol No
Scatter Symbol No
Feature No
Gamble No
Recommended Coin Size $0.05, $0.25, $0.50, $1.00, $5.00
Default Coin Size $0.50
No. Of Coins Allowed 1 Line x 3 Coins = 3 Coins
Default No. Of Coins 1 Line x 3 Coins = 3 Coins
Max Bet 1 Line x 3 Coins x 5.00 = 15.00
Min Bet 1 Line x 3 Coins x 0.05 = 0.15
Default Bet 1 Line x 3 Coins x 0.50 = 1.50
Jackpot in Coins Progressive or 2500
Max Jackpot Progressive or 2500 x 5.00 = 12,500

Diamond Mine Slots from RealTime Gaming reviewed
---