Dolpin Tale

Dolphin Tale Video Slot
Dolphin Tale Video Slot Review
Here we have a treasure of note when three or more great Clams grace your screen, you are swished in a whirlpool of fuss and enter into the gates of the unknown – five characters of the sea will greet you with their offering of anything from 5 to 25 free spins with hidden random multipliers of as much as 20. Overhead you may have the rookie Dolphins shadow cast over you as he substitutes for all symbols other than the scatter, not to mention that their is a second substitute in stores with the likes of the Wild symbol which comes to play within the confined space of your spin feature only. This remarkable video slot sports 5 reels by 40 paylines with great rewards.
Where can I play Dolphin Tale?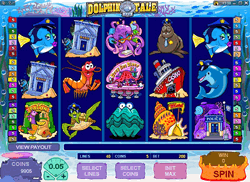 Background to the Dolphin Tale slots
Dolphins are long-lived social creatures that require a lifetime of dedication to learning more about the complexities of their social structure. The fact that we can observe these aquatic mammals under water has provided a wealth of information. We are beginning to understand some of the subtle complexities and intricacies of their society. Dolphins live in small groups called pods, these pods can be quite fluid and dolphins can be seen interacting with dolphins from other pods from time to time. Their teeth are arranged in a way that works as an array or antenna focusing the incoming sound, making it easier for them to pinpoint the exact location of an object. They are also known for their willingness to occasionally approach humans and playfully interact with them in the water.
About Dolphin Tale Slots
Theme – Undersea Adventure
Reels – 5 Reels
Paylines – 40 Paylines
Coin Sizes – 0.01; 0.02; 0.05; 0.10; 0.20; 0.25
Coins per Payline – 1 to 5
Highest Pay – 15 000
Maximum Jackpot – 3 000 x 5 coins per line = 15 000 coins in base game; 3 000 x 5 coins per line x 20 (multiplier) = 300 000 coins in Free Spin Game
Wild Symbol – Yes
Scatter Symbol – Yes
Free Spins – Yes
Feature – Yes (Free spin selection)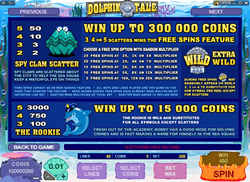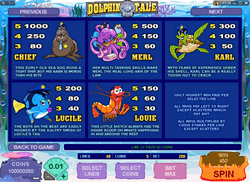 Payscreen Symbols for Dolphin Tale Slots
Rookie Dolphin – 3000 times 5 coins per line
Sea Dog – 1000 times 5 coins per line
Merl the Octopus – 500 times 5 coins per line
Karl the Turtle – 300 times 5 coins per line
Lucile Fish – 200 times 5 coins per line
Shrimp – 150 times 5 coins per line
Undersea Casino – 100 times 5 coins per line
Undersea Bank – 80 times 5 coins per line
Undersea Police Station – 70 times 5 coins per line
Shell Motel – 60 times 5 coins per line
Undersea Saloon – 50 times 5 coins per line
Spy Clam Scatter – 50 times 5 coins per line
Undersea Diner – 40 times 5 coins per line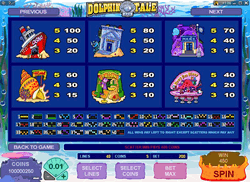 Summary of Dolphin Tale Slots
An entertainment pleasure, wonderful graphics and sound with those special little creatures within our oceans.

Dolphin Tale slots from microgaming reviewed.
---